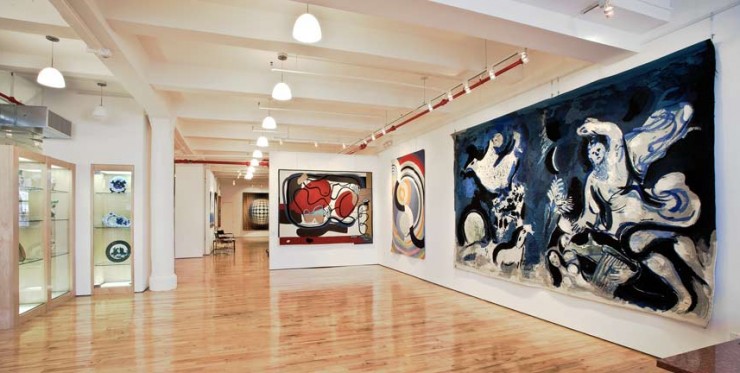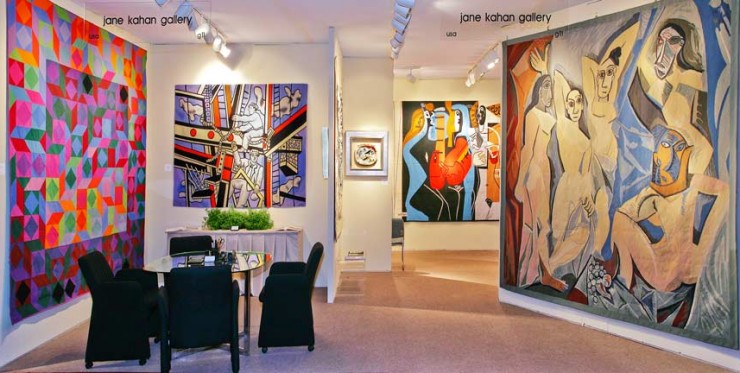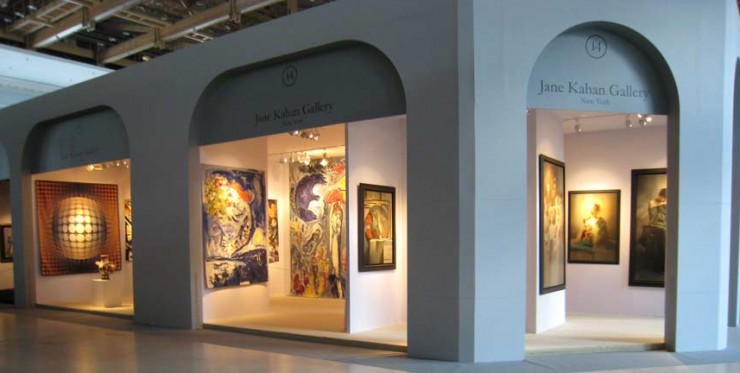 THE JANE KAHAN GALLERY is an internationally known New York City gallery dealing in modern master prints, sculpture, paintings, tapestry and ceramics. Since 1973 the gallery has been helping museums, corporations, architects and private individuals build museum-quality collections of Modern Art.  We have particular expertise in the works of Picasso, Chagall, Miro, Leger and Calder.
Our main gallery at 73rd and Madison is open Tuesday through Saturday, 10 – 6.  During the summer (Memorial Day to Labor Day) our hours are Monday through Friday, 11 – 5.  Our exhibition space, JANE KAHAN FINE ART, across from the 59th Street Bridge, is open by appointment only.
TAPESTRY
Jane Kahan is one of the few galleries in the world with important 20th century Fine Art tapestries available for sale. Tapestries by Chagall, Picasso, Miro, Leger, Calder, Le Corbusier, Dubuffet, Delaunay, Magritte, Lichtenstein, Stella, Davis, Vasarely and others from our unique collection have been exhibited in museums, art fairs and public institutions in New York, Los Angeles, Miami, Washington, D.C., Seattle, Vienna, London, Moscow and Dubai.
PICASSO CERAMICS
We were also one of the first galleries in the United States to deal in Picasso ceramics and we continue to be a major source of these rare pieces as well as ceramics by other modern masters.
WHAT'S NEW
Jane Kahan Gallery has just launched the Prints Boutique, where collectors can find quality prints by noted artists at accessible prices.
GALLERY INFO
The Jane Kahan Gallery still occupies its original landmark space at the corner of 73rd and Madison on Manhattan's Upper East Side.
We belong to the Fine Art Dealers Association, the International Fine Print Dealers Association, and CINOA. You can also visit us on our artnet site.
Our philosophy can be summed up by the words "best of class."  We believe it is better to buy the best print by a lesser known artist than a mediocre painting by a famous one.  In an era when the best paintings by an artist like Picasso can sell for over a hundred million dollars, the best prints, tapestries and ceramics by such artists can still be had for 1/100th or even 1/1000th of that price.
We invite you to contact us or visit the next time you are in New York.